WhatsApp Looking very Scariest from his Competitor Telegram.
The Sincere Company's are expected to retain their users by offering the Best, Good & More Handy Service's they can provide not by actively locking them in. The best example is Google lets users easily download all their contacts, bookmarks, photo, emails and other personal data though Google Takeout. From there, anyone is free to close their account and move to a competing service, no questions asked.There are many company's in market that don't behave like this way. This is very disappointing bcz the company is already the biggest player on the market.
More difficult for Telegram users, are any message that contains a URL with a "Telegram' domain name is not able to copy, forward or Hyperlink on selecting message, so it is not possible to share link without both the sender and receiver manually typing Telegram link.
I am not unable to find any other link which did not automatically generate a hyperlink in the same way that the 'Telegram' links did not. It's like Generating such links are illegar or unethical services,
well, we don't want to be haters so we tried another .me or .org links just to test if that was a general failure but,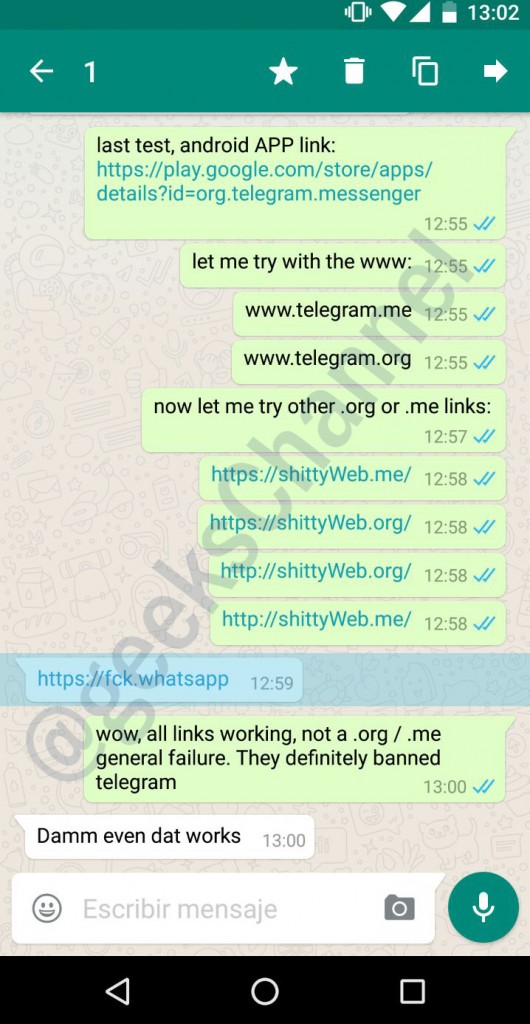 But as you can see, other links are working properly. so it's not a general failure, It's a whatsapp feature in updated Whatsapp application.
In the recent updated app these strings are classified as a "bad host," so that's why no hyperlink is generated and become impossible to copy and share forward Telegram message with that URL so this block is purposefully targeted at Telegram.