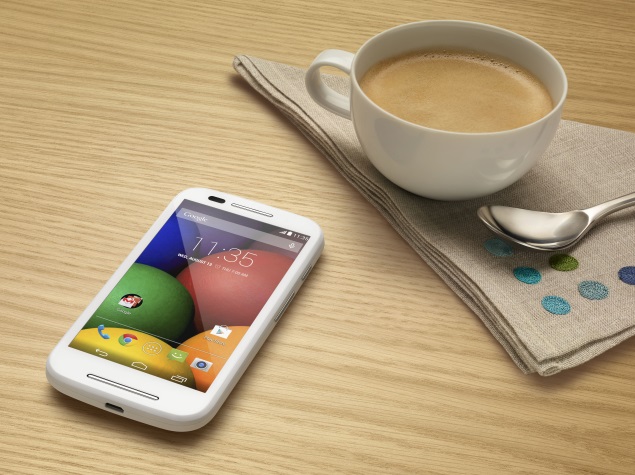 Motorola India has started rolling out the Android 5.1 Lollipop update to the Moto E (Gen 1) in India. The Lenovo-owned company last week
rolled
out the Lollipop update for the second-generation Moto E.
The
Android 5.1 Lollipop
update for the
Motorola Moto E (Gen 1)
is now available over-the-air (OTA) in India and users should receive a notification popup informing them of the availability. Users can also manually check for the update by going to Settings > About phone > Software update on the Moto E (Gen 1).
Confirming the rollout, Motorola India has
posted
Android 5.1 Lollipop release notes for the handset. The update comes with build number 23.21.15, same as the
Moto E (Gen 2)
, and is about 210MB in size. We recommend readers to upgrade over Wi-Fi only.
The official changelog of the Moto E (Gen 1) is identical to the Moto E (Gen 2), and includes new pull-down menu for quickly selecting different Wi-Fi access points or paired Bluetooth devices; reduces noise in low-light shots; brings improved responsiveness to the front-facing camera viewfinder, and also brings device protection, which will make sure that if your device is lost or stolen it will stay locked until you sign in with your Google account, even if someone resets it to factory settings.
The Android 5.1 Lollipop update for Moto E (Gen 1) handset will also let users block interruptions until the next alarm, alter notification volume controls while media is playing, apart from dismissing a heads-up notification and swipe it up to remove it from the screen. Improvements in ART (Android Runtime), which will result in the faster opening of apps and other performance improvements, are also included.
Motorola
has already rolled out the Android 5.1 Lollipop update for the second-generation
Moto X
while the Android 5.1
'test drive'
for the
Moto X (Gen 1)
started and the update is likely to start rolling out in some weeks.